I have a confession to make. It has to do with love. And math.
Which is not such a weird combination. Famous awesome people think about it a lot. Like Randall Munroe.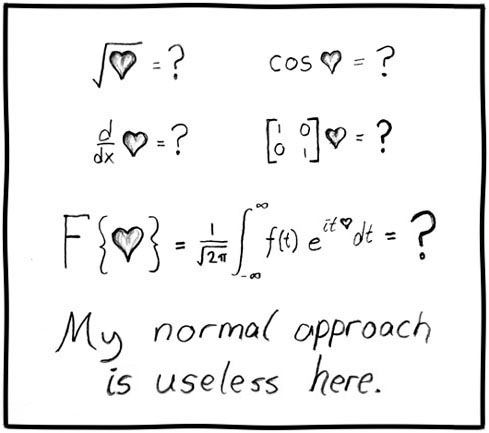 Sure, he couldn't figure it out. But I have. No, this doesn't have anything to do with a math geek I might have a crush on, it's about MATH.
Ok.
Confession time.
*Ahem*
I...ummm....I love my calculator.
Yep. That's it. I hope that's not too weird. And I don't mean that I, like, want to do things with it cuz that's disgusting and all you people have extremely dirty minds. Get your minds out of the gutter, people, and think about happy things like calculators.
And I love it. It's so useful! It can solve quadratic equations and systems of equations and simplify radicals and amazing things like that. It saved me in Algebra II. And I love it, oh so very much.
So this entire explanation has been so that you can understand the situation in the following awkward story that happened to me:
So I need a graphing calculator for Pre-Calc, so my mom and I go to Staples. We look at the calculators and try to decide whether or not I need the Silver Edition of the calculator. Pretty normal. But then, on the shelf nearby, I spot my beloved Casio calculator.
"Look, Mom!!" I say, pointing with enthusiasm, "There's my scientific calculator!! I love that calculator soooo much!"
My mom looks a bit weirded out, but then I notice this random guy who was standing there looking at the calculators. He was looking at the calculators, but now he's looking at me as though I turned into a velociraptor on the spot. He doesn't say anything, just looks at me for a long while. In the meantime, I mutters something like "Umm....sorry...just...ummm...talking to my mom, sorry..." and then pretend to be extremely engrossed in studying the TI-84 Plus like it's the most interesting thing ever. AWKWARD.
True story. Now you can see that my love for my calculator has spawned some awkwardness. Not to mention my friend laughed when I told her the next day and said it was slightly weird that I am unnaturally attached to my calculator. She's just jealous :P